Shreya, my friend from Mumbai and I planned a trip to Meghalaya this August 2018. The beginning of this dream trip to the north-east of India was a bit unusual. It will probably not be on any of your itineraries.
Our trip was supposed to begin at Guwahati. Go through four places in Meghalaya and end back at Guwahati, from where we fly back to our respective homes in Mumbai and Bangalore. But one of the things sitting on my bucket list since long was a wish to see my birthplace, Tinsukia in Assam. My family moved out of that city when I was 4 years old and barely remembered anything from it.
So, I took a flight to Dibrugarh airport from Bangalore to visit Tinsukia first and then caught up with the rest of the gang(including Shreya) on the next day at Guwahati. This gang was a group trip package organized by Mumbai travelers.
Now coming to the itinerary of the trip and the experiences in each of these places, which you would love to know about:
Day 1: Tinsukia
I doubt that any of you will include Tinsukia to your itinerary like me, but I 'll mention it anyway. This is a commercial city near Dibrugarh in Assam. I took a detour on a flight from Bangalore to Dibrugarh to reach Tinsukia rather than directly heading to our actual starting point of the trip, Guwahati. The reason was that this city is my birthplace and I wanted to visit it even though we have no relatives there anymore.
So, I visited my first school Budding Buds School, Tinsukia and talked to a few old employees(Ahmed Sir) who showed me where my old classroom could have been. Apparently, the name of the school had changed over these years from Kanya Pathshala(1994) to Budding Buds. Following this, I went to the hospital I was born. And finally to the first home where I lived. Surprisingly, my neighbors recognized me. They were as old as my dad and remembered my father very well. I got to hear some of my childhood stories from them and returned with my heart full of satisfaction and hand full of green tea packets which they gifted. 🙂
Day 2: Guwahati to Shillong
I took a train from Tinsukia to Guwahati to catch up with the rest of the group near the airport. Since they were to arrive around afternoon, I made use of this time to visit the Shakti peeth temple Kamakhya devi in the morning. A special darshan ticket got me into the temple within 1 hour, instead of a typical 3-hour queue.
Post the temple visit, I joined my friend Shreya at the airport. Rest of the trip group was new to me but we took no time to mingle with each other on way to Shillong from Guwahati. We stopped to see the picturesque Umiam lake on the way to Shillong.
Day 3: Shillong to Mawphlang and Mawsynram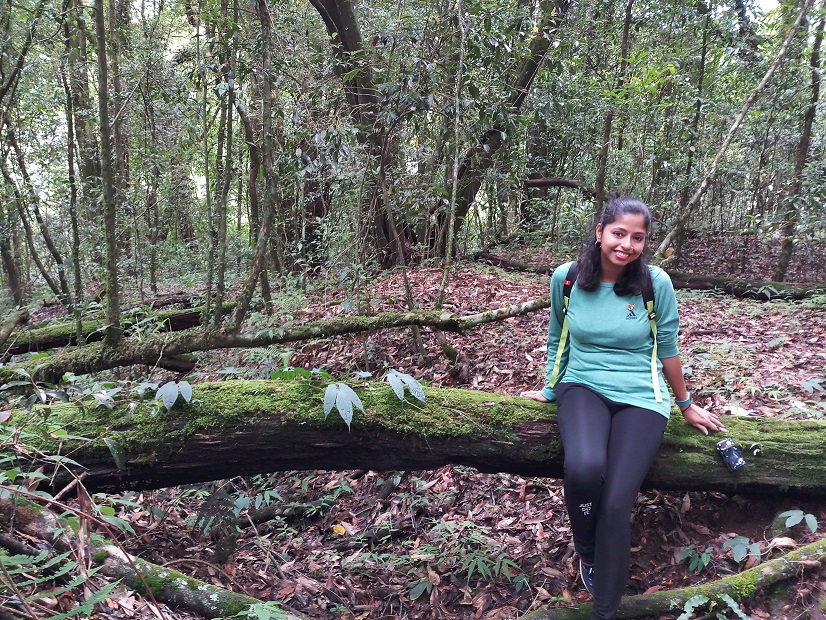 The first place we visited in Shillong was Mawphlang sacred grove. This sacred forest in Meghalaya belongs to a private community of Khasi tribe and we are expected not to take away even a single leaf from forest unless we want to be cursed. This jungle was used to sacrifice animals during wars or epidemics to give luck and courage to the tribe. A local Khasi boy showed us the jungle and told us about the various flora and fauna in it. We also visited the Heritage village nearby which was small but beautiful.
Thereafter, we took off to visit India's wettest place, Mawsynram. The way to this village was more beautiful than the village itself. There was some breathtaking scenery which got us all excited. But unfortunately for us, we couldn't experience a drop of rain there. There were a simple little cave and a dam that we visited there. Not very great but again, the route did justice to the places we went to. We headed back to our hotel in Shillong for the night.
Day 4: Shillong to Dawki and Mawlynnong
The Bangladesh border in Tamabil is not far from Shillong. So we went to this spot, mainly because Dawki, the huge clear water lake is right next to it. Lots of trucks line up near the border to cross it in given time slots. So we parked the bus a little away from the actual border and walked up to it. As expected, Bangladesh looks not very different from India except for green colored passports.
We were eager to go boating in the Dawki lake and experience the thin boats cutting through the green waters of the lake. We also took a dip in the water midway and swam a little. When we got back, we had smiles on all our faces from the awe and wonder of looking at the rocks around this lake and the bridges, the fishermen and the beautiful boats of course.
A couple of things that became a habit throughout the trip were our morning walks and the constant hunt for pineapples everywhere. I am not kidding, pineapples in Meghalaya are the most tastiest, juiciest and softest I have had anywhere.
We headed to the Mawlynnong village in the afternoon. It is known to be the cleanest village where each house has colorful shops in front. To be honest, it feels very commercialized but ethnic nevertheless. Some of us convinced a local girl to help us wear the local dress Jainkersha. There was a very tall bamboo structure that we climbed in this forest to reach a gorgeous viewpoint that showed us India and Bangladesh in a top view.
Rewai root bridge was nearby where we saw the first root bridges among many in the jungles of Meghalaya. It was astonishing how nature can create such strength in tangled roots across big streams.
Day 5: Cherrapunji Sightseeing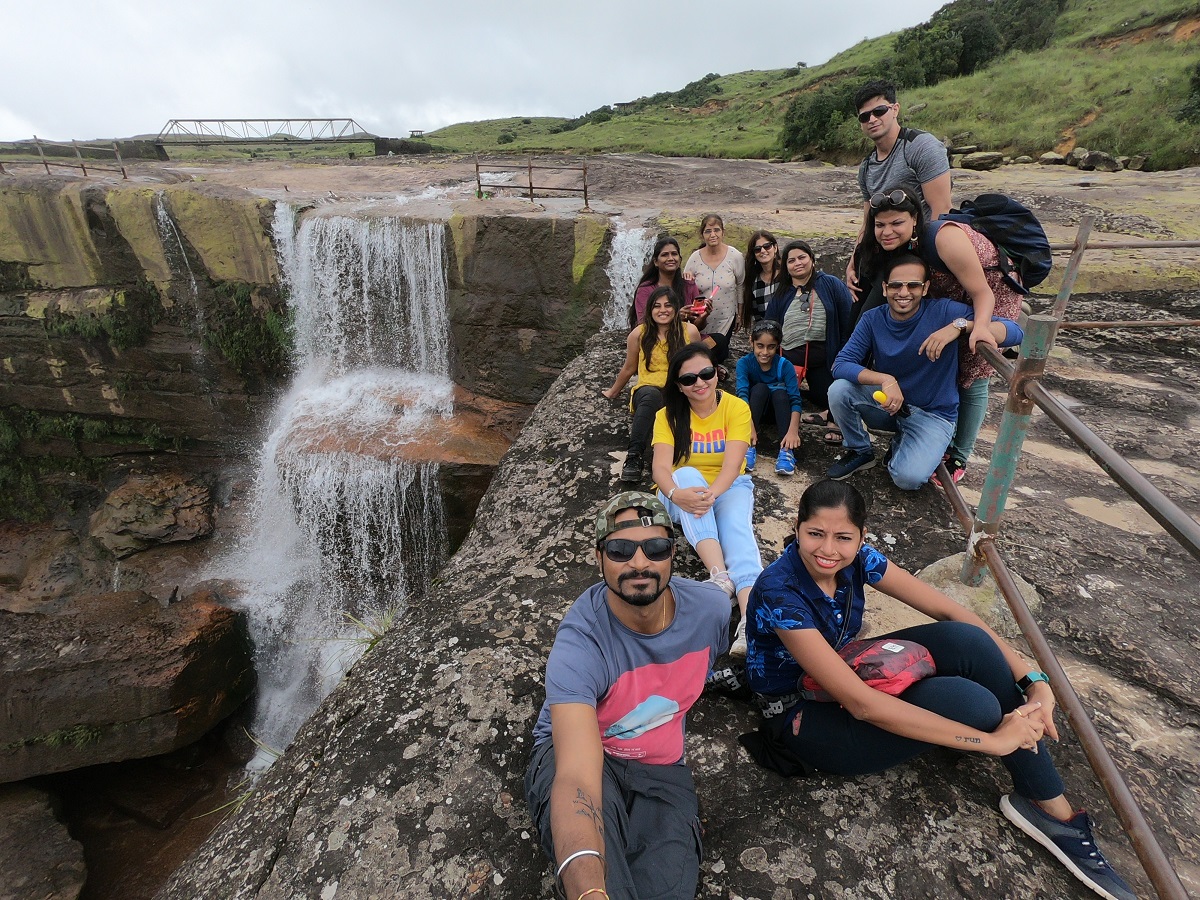 After a lively night eating the street foods in Shillong, we moved base to Cherrapunji where our hotel was perched on top of a steep slope on a mountain. We experienced our first rain(mostly drizzle) the next morning in this iconic town. Now that goes into many people's bucket list – "Experiencing the rains of Cherrapunji."
Sightseeing at Cherrapunji included lots of waterfalls. To start with, we saw the Dainthlen waterfalls. One cannot go under it but see it from the top. The same with the other waterfall that we saw – Nohkalikai Falls. Nohkalikai is named after a local folktale heroine who jumped from the top of this waterfall after finding out about her daughter's death. I wouldn't go into the whole story since it is too dark to detail here. The fog played hide and seek with us for very long before we could finally catch a glimpse of this beautiful waterfall eventually.
Thereafter, we walked through the Mawsmai Caves, where it can get a little tricky to cross some parts of the cave. Better to avoid if you are claustrophobic, but otherwise, do experience this walk. Not long but interesting for sure. The last viewpoint of the day was the "Seven sister falls". In better monsoon, you can really count all 7 falls next to each other, but for us, it was more like five. The view was grand nevertheless.
In the evening, our Cherrapunji hotel had arranged for some local music and dance performance. It was colorful and entertaining to hear also.
Day 6: Cherrapunji Root Bridge
The last day at Cherrapunji was, how do I put it, a paradise visit. The best for the last as they say. Double-decker root bridge is a destination that every visitor must go to. The destination shows you two beautiful bridges, one below the other, made up of intertwined roots purely. There is a heavenly waterfall right in front of it, with the kind of pool that is good for both bath and swim. Ignore the bites from small fishes in the water, haha. They are harmless.
But before you get to this mesmerizing destination, I need to tell you honestly about the way to reach it. There are 3500 steep steps down a hill. Yes, 3500. It's not an easy trek down and back. A little more than intermediate level actually. So be mentally and physically ready for it before taking up this hike. We were lucky it did not rain midway. Had it rained, the challenge would have been both steep and slippery at the same time. Not a good combination. Our group did well in terms of supporting each other to go to the fall and return back. In the end, nobody regretted the effort for sure.
Day 7: Shillong to Guwahati
The last day of the trip was kept light since we had a flight to catch in the evening. We headed to a couple of sightseeing spots including Shillong peak and Elephant falls. Shillong peak is a spot from where you get to see the whole city of Shillong. Since the ladies in the group had not yet tried local costume of Shillong yet, we decided to do this touristy activity at the peak. Not a bad background for the picture as well.
The Elephant falls has three stages and it curves in a way that you cannot see the previous stage once you go down to see the next. It is named after a rock that was shaped that way earlier. This can't be seen anymore but the name remains unchanged. One of our group mates, Peter was really eager to see the Laitlum canyons near Shillong, so because of a shortage of time, he had to skip Shillong peak and head there on his own. He met us later at the falls directly.
This is where we bid adieu to Meghalaya and made our way to Guwahati for our respective flights home.
Hope this blog helped you get a picture of the Meghalaya through my perspective. I ll sign off with a few lines from our favorite Assamese song that we kept hearing all the way through the journey in our bus –
Hey mini, toke dekhi…..click here for the song video.